Travelling to your town & Settling in / Getting to know the area
Yes, oh Yes! I had extremely mixed emotions because my MediaKids Academy journey had finally, started. On the other hand, I was sad because it was my first time leaving my friends and family behind for too long. I'm not even sure when I would see them again. But I had to set aside that emotion. I had to focus more on positive things, and I reminded myself why I was here and why I'm still here.
After the orientation, all teachers were so excited to travel to their assigned school and town. And so, was I! So, we headed out to Mo Chit 2 Bus Terminal with my Canadian co-teacher. We bought a ticket from Sun Bus Company going to Chaiyaphum and asked the staff to drop us at Dankhuntot. The trip took around 4 hours before we arrived in Dankhuntot. We were surprised that my landlady picked up us at the terminal and toured us around before dropping us to our apartment.
"This place is amazing; I love this place; I want to stay here longer; What a wonderful place to live in." Those are the words that came out from our mouth when we saw how magnificent 'Dankhuntot district' was. You wouldn't imagine how elated I was because I was assigned to a place where it felts like heaven. This place is the exact opposite from the busy metropolis of Bangkok. Life here in Dankhunthod is quite laid back.   I'm not saying the country's capital is not a good place but if you want peace of mind and be away from crowded places, this town will absolutely be your perfect comfort zone.  This is the best place to visit and stay as long as you want. Now, I will give you a glimpse of this nice and peaceful paradise where I'm currently at.
Getting to know Dankhuntot District
To give you a little background of Dankhuntot District. This area is located at the western part of Nakhon Ratchasima Province, Thailand. Dankhuntot was built before the reign of King Taksin. It became a district in 1908.  This place is just 1 hour away from the heart of metropolitan area which is commonly known as Korat, a shortened name of Nakhon Ratchasima Province. There are generally three seasons in Isan region: Hot (February – May), Rainy (June – October), Cold (November – February). The economy in Dankhuntot and Korat has traditionally been dependent on agriculture. They are the center of processing for production of rice, tapioca, and sugar.
One of the reasons why I love this place is because the weather and the economy is almost similar to my country, the Philippines.  Aside from this, one would fall in love in the tranquility and serenity of the man-made lake known as Lake Banhan. The sunset is perfectly an ideal picturesque view of nature. Many people are walking in the afternoon till dusk. Children are running and playing in the playground. There are aerobics and dancing for everyone. One can't miss feeding the huge catfish and turtles along the lake. Feeding them is definitely captivating.
Thai People in Dankhuntot
               Some Thai people would feel apprehensive if they find out that you are a foreigner. Probably, because of the language barrier; However, please don't be disheartened. Always, remember to use the most important gestures in Thailand which is 'The Wai' where in you must put your hands together and bow. You must be friendly and don't forget to smile a lot. I will assure you that they will start loving you and would even respect you if they find out that you are a teacher. Of course, you must be respectful too even outside the school. I remembered there were times especially during weekends I want to have a blast, like party all night but I just can't because I know that their eyes will be on me. I want to keep their first impressions of me being respectful. I would suggest if you want to enjoy your weekend partying all night that you should go to Korat, or wherever your nearest major city is. Also, I noticed that Thai people don't like confrontation. What happened was, I was listening to music with a mid-volume and my landlady messaged my consultant and complained. It also happened to my foreigner neighbor as well. This is common in Thailand, so don't feel bad if this happens to you.
 Food in Dankhuntot
               Thailand is also well known for its spicy food and being undoubtedly a nation of fruits. A lot of vendors sell dozens of different chilled fruits, exotic food and different types of food on street corners throughout the kingdom. There are a lot of great varieties of Thai food for you to try, both main dishes and desserts. I remembered during my first day here in Thailand I was so afraid to try their local food because of the spiciness. But now I'm starting to embrace it. In fact, I'm starting to miss a meal that doesn't have spice. I actually have my top 5 food such as:
Tom yum Goong (Spicy Shrimp Soup)
This is a versatile dish that can fit within virtually any meal. It has distinctive smell like exotic perfume.  This classic soup has a legendary herbal kick and invigorating sour-spicy-hot taste.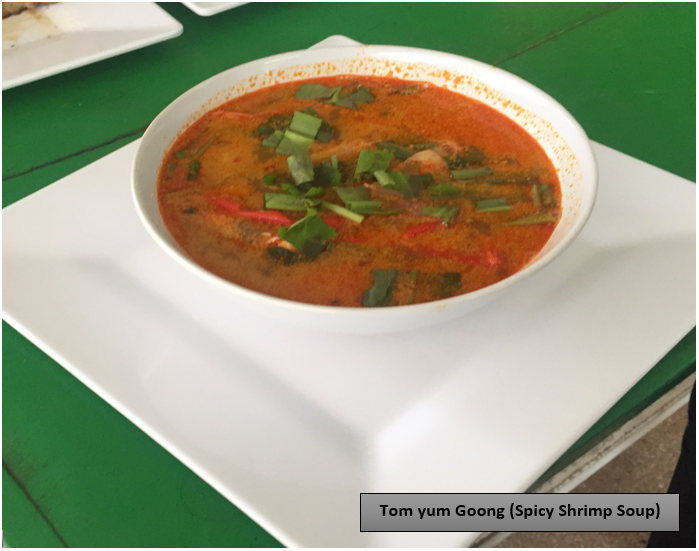 Pad Krapao Moo Saap (Fried Basil and Pork)
A most favored dish in Thailand called Pad Krapao. It is made in large fresh chili, pork, soy sauce, green beans, a little sugar and lots of holy basil leaves. It is often served with fried egg on topped.
Khao Pad (Fried Rice)
Thai fried rice also known as Khao pad is one of the best fried rice I have ever tried. It served typically with a wedge of lime and slices cucumber. The secret of this unostentatious dish lies in its simplicity.  Fried rice, egg, onion and a few herbs. Nothing more, nothing less.
Som Tum (Papaya Green Salad)
This spicy salad made from shredded an unripe papaya would definitely be one of your favorites in Thailand. Som tum is very famous and easy to make. It has sliced tomatoes, peanuts, fresh garlic, raw long beans and dried mini shrimp. This can be served quite spicy with sweet and sour flavor. Please make sure to request how many chilies you want to add or else you won't be able to handle the spiciness.
Pad Thai (Fried Style Noodles)
A stir-fried noodle dish commonly served as a street food in Thailand. This is probably the most well-known Thai dish. It has sweet-sour-savory sauce scattered with crushed peanuts.
There are still lots of food in Thailand to choose and try. The best food is always found on the street. Each order ranges from 30-100 bath. Thai food is delicious but not very substantial, which is why Thais are always eating. They persistently eat throughout the day because they eat small meals and still managed to maintain their tiny bodies and good health.
If you want to see more about my personal blogs, you can follow me on the following links below:
Facebook page:
https://www.facebook.com/iamAldonLopezALT/
Instagram:
https://www.instagram.com/aldonlopez/
Twitter:
Tripadvisor:
https://www.tripadvisor.com.ph/member…